2017 American Association of Anesthesiologists Annual Meeting (ASA)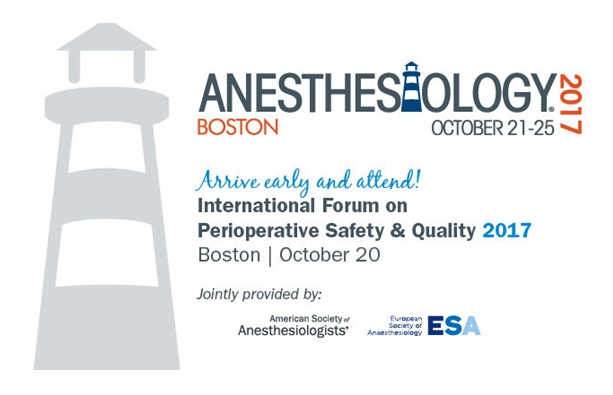 ◆ Meeting time: October 21-25, 2017
◆ Meeting Location: United States Boston
◆ Conference Introduction:
Founded in 1905, the American Association of Anesthesiologists (ASA) is an organization of more than 52,000 members who integrates education, research, and scientific research to improve and maintain medical practice in the field of anesthesiology and to improve patient outcomes. Specialized standards, guidelines and statements are developed to provide guidance to the anesthesiology department to improve decision-making and promote beneficial results.
The ASA holds an annual event. The ASA Annual Conference is the world's premier and most comprehensive anesthesia-related educational event and exhibition, bringing together the most influential and well-known professionals in the fields of anesthesiology, pain medicine, and critical care medicine. About 20,000 experts in the field of anesthesiology take part, and hundreds of experts from mainland China participate each year.
The ASA Annual Conference allows exhibitors to obtain the highest quality potential customers. Exhibitors can seek out the latest products that are useful in anaesthesia practice with healthcare professionals such as anesthesiologists, anesthesia nurses, anaesthetist assistants, respiratory therapists and pharmacists. Service and technical information.
Registration | Nonmember Categories
*Physician: $1,460 (Thru July 23) - $1,565 (July 24-Oct. 8) - $1,670 (Oct. 9-25)
*One-Day Meeting Pass : $470 (Thru July 23) - $680 (July 24-Oct. 8) - $890 (Oct. 9-25)
*Two-Day Meeting Pass : $840 (Thru July 23) - $1,050 (July 24-Oct. 8) - $1,150 (Oct. 9-25)
◆ Participants:
Government representatives, hospital administrators, department directors, deputy directors, doctors, and experts from related fields, researchers, and pharmaceutical companies.
※Related Services※
Conference Registration Service: US$50/person/time, conference registration fee will be charged according to official regulations;
Outbound Visa Service: RMB 1,500/person/time (US, including visa fee), contact customer service in other countries;
Conference submission service: 30 US dollars / person / time, the official fee charged separately (if any);
Member Application Service: 30-100 US dollars / person / time;
On behalf of the booth services: service fee for booth costs × 10%;
For group participation, overseas visits, medical visits, overseas training, business trips, etc., please contact customer service directly.